Swords and Spaceships July 7
Happy Friday, magicians and mecha warriors! Today we're talking Archivist Wasp and The Djinn Falls In Love & Other Stories, plus adaptation wishlists, sci-fi audiobooks, space swag, and more.
---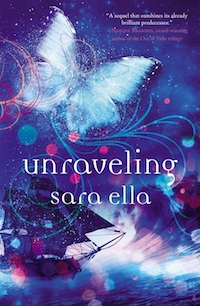 This newsletter is sponsored by Unraveling, book two in the Unblemished trilogy by Sara Ella.
The entire universe is unraveling. Can a young heroine stop the fray? Through her mastery of world-building and mind-bending plots, Sara Ella takes fantasy to a new level in Unraveling, the anxiously awaited continuation of the Unblemished Trilogy. As Eliyana continues her journey towards the throne, she tries to figure out her relationship with Ky and how it might be connected to the Callings. She needs answers before the Callings disappear altogether. Can El find a way to sever her connection to Ky and save the Reflections—and keep herself from falling for him in the process?
---
Been wondering how exactly 1984 took over the reading world yet again? We can help with that! Our newest podcast series, Annotated, is a documentary podcast series about books, and the first episode is a look at the strange and circuitous history of 1984. The next five episodes in the series will come out every other week, and you can subscribe to Annotated in Apple Podcasts, Google Play, or in your podcast player of choice.
Science needs science fiction, and the X Prize Foundation knows it. Their past prizes have gone to gadgets that make sci-fi a reality, but this year they want the stories! Heavy hitters like Margaret Atwood and Charlie Jane Anders are contributing pieces that detail "the future from the perspective of a different passenger on a plane that traveled through a wormhole 20 years into the future," and anyone can submit a story about the person sitting in 14C. The winner will join their Science Fiction Advisory Council, and wouldn't I love to be a fly on the wall during those meetings?
AJ has 8 SF/F series she wishes would be adapted. I am a hard cosign on Acacia and The Fifth Season, but I confess I am incredibly worried about the Imperial Radch adaptation. What's on your list? What are you excited for/nervous about?
For your summer listening, how about some sci-fi audiobooks? One of our contributors needed recommendations for a road-trip with someone who isn't a sci-fi geek, and the suggestions are ?.
I will take one of everything from this round-up of space-themed swag, please and thank you. And maybe five of those Hitchhikers hand-towels.
For when the world is just too hard, here are babies dressed up like Harry Potter. I officially cannot even.
Today's reviews have no theme, I just love them A Whole Lot.
Archivist Wasp by Nicole Kornher-Stace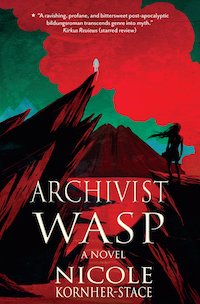 A few times a year, if you're lucky, you read a book that becomes part of your permanent recommendations list. These are the books that, when someone asks you what they should read next, are the first ones you throw into the conversation. "Have you read this one? What about this?" I read Archivist Wasp in 2015 and have been recommending it on the regular ever since.
In a world of dystopian YA with female leads who have to kill other teens, this one stands out to me for a few reasons. I fell for Wasp immediately. She's caged by her circumstances and brutal by necessity, and the world she lives in has given her nothing to hope for — but she hangs onto hope for herself regardless. Her determination in the mind-bogglingly weird quest she finds herself on (ghost dimensions! Underworlds!) is based on nothing but her own willpower, and it's glorious to watch.
That mind-boggling weirdness? That's another reason. It's clearly a post-crash world, one with horrible awful no good very bad traditions; it's also a world in which ghosts are categorizable and the Underworld is an actual place you can go, if you have enough reasons. And then there are the ghosts with technology! Yep, I repeat: ghosts wielding fancy tech, with unfinished business that's actually worth finishing.
Last but not least, rather than running on romantic tension, Archivist Wasp runs on trust issues. When the world has conspired against you and everyone is out for themselves, who can you trust and why would you bother? This is the question at the heart of this novel, and the answers Wasp finds are worth the read.
The Djinn Falls In Love & Other Stories, edited by Mahvesh Murad and Jared Shurin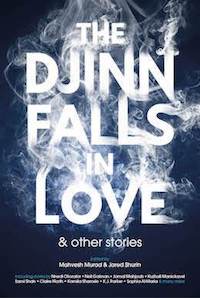 I love me a solid short story collection, especially a very specifically themed one, and you can't get more specific than a collection entirely about djinn. Or genies, or jinn — the spelling was left up to the authors. Not only is there a range of spelling, but each story is a different interpretation on the supernatural being in question. From lightly fabulist to historical to contemporary to religious to futuristic to deeply disturbing, and all possible combinations thereof, the authors in The Djinn Falls In Love have let their imaginations and pens run wild.
I have a few favorites, because of course I do. "The Congregation" by Kamila Shamsie is so quiet and so poignant that I had to just sit and stare at the table for a few minutes after finishing. "Glass Lights" by JY Yang (who you will be hearing more about in future newsletters) was deft and wry, while Amal El-Mohtar's "A Tale of Ash in Seven Birds" was a clarion call and a challenge to the reader. "Bring Your Own Spoon" by Saad Z. Hossain will be haunting me (but what happens next???) for ages, as will "Message in a Bottle" by K.J. Parker. "The Righteous Guide of Arabsat" gave me nightmares; read during daylight hours. And there is so much more: Monica Byrne, Maria Dahvana Headley, Neil Gaiman, Nnedi Okorafor, the list of excellent contributors just goes on and on.
The editors set out to "showcase global storytelling," as they put it in the introduction. I'm delighted to say that they succeeded, and I want to thank them in particular for starting with the poem that gave the book its title, "The Djinn Falls In Love" by Hermes. It was beautiful to see the poem in both English and Arabic, and to set the stage with such a stark and affecting vision. And then there's that cover! You're going to want this one for your shelf (and maybe an extra to lend to unsuspecting, lucky guests).
And that's a wrap. Happy reading! If you're interested in more science fiction and fantasy talk, you can catch me and my co-host Sharifah on the new SFF Yeah! podcast. For many many more book recommendations across the board you can find me on the Get Booked podcast with the inimitable Amanda.